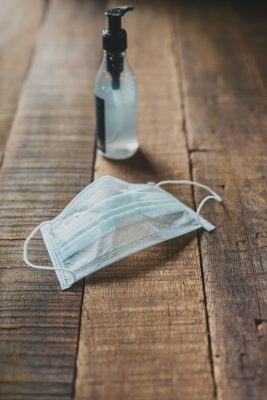 It's the battlecry of COVID19. Mask up for your neighbor, for your family, for yourself.
Cloth masks, surgical masks, N95 masks and face shields all have found their way into our decision making of obeying the mandate. During the short history of this pandemic, there has been conflicting research coming from medical professionals on the value and even the long term negative effects of masks. Many doctors and nurses have shared that the masks are at best a comfort, a pseudo-treatment, to provide a psychological guard against the virus- certainly not a physical guard.
So much talk about the masks. So much reliance on an instrument that does not provide conclusive evidence of help. But mask up we do! With an 85 year old father and 89 and 94 year old in-laws, the risk not to wear on their behalf is too strong.
To add to the mask-up mandate, conversation about wearing a mask or not wearing a mask turns into passing judgment on those around us. No doubt, masks will be the lasting symbol of the pandemic.
How's your reliance on God's protection? I'm not saying this to dismiss the need to mitigate and prevent the spread of the virus. I'm addressing the need to look for help and protection that reaches beyond the here and now and has a perspective beyond the perils we face. Eternal vs temporal; it's not being talked about enough.
Paul writes about the full armor of God In Ephesians 6. ARMOR - not a mere mask. "Put on the whole armor of God, that you may be able to stand against the schemes of the devil. For we do not wrestle against flesh and blood, but against the rulers, against the authorities, against the cosmic powers over this present darkness, against the spiritual forces of evil in the heavenly places. Therefore take up the whole armor of God, that you may be able to withstand in the evil day, and having done all, to stand firm. Stand therefore, having fastened on the belt of truth, and having put on the breastplate of righteousness, and, as shoes for your feet, having put on the readiness given by the gospel of peace. In all circumstances take up the shield of faith, with which you can extinguish all the flaming darts of the evil one; and take the helmet of salvation, and the sword of the Spirit, which is the word of God, praying at all times in the Spirit, with all prayer and supplication. To that end, keep alert with all perseverance, making supplication for all the saints" (Ephesians 6)
Belt of truth? Breastplate of righteousness? Shoes of peace? Shield of faith? Helmet of salvation? Sword of the spirit? Seems like a fortress around us...all thanks to the grace of our God. While our recourse against COVID19 is defensive, insecure, and speculative, the posture of faith, fully armored by God, is one that combats the evils of this world. Paul uses words like ready, extinguish, praying, standing, persevering and wrestling. There's certainty in this armor and we are wise to have it on.
Our danger is distancing ourselves from those things that remind us and assure us of this weaponry- things like devotions, Bible study, worship, prayer and the Sacraments. Is this part of your "safety protocol?"
I hope you can have a mentor like I do in my Dad. His modeling of his "safety protocol" includes devotions every morning (he uses a version of morning versicles), prayer, leading Bible study and never missing worship- never. In fact, while sequestered in his home in those first months of COVID19, Dad participated in 3 worship services every Sunday! Dad showed to all us the meaning of "Where does my help come from? My help comes from the LORD, the Maker of heaven and earth. (Psalm 121).
It looks like COVID19 wants to give us another round of its fury. I hope this time as restrictions are placed back on us that we put a greater emphasis on other parts of our health- especially our spiritual health. We can do more than "mask up." Our God has supplied all we need.